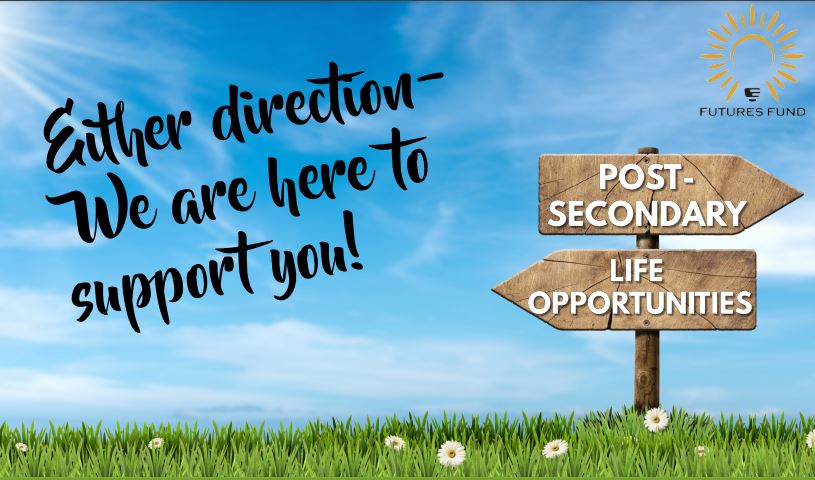 NOW ACCEPTING APPLICATIONS FOR FUTURES FUND 2023/2024
2023 FUTURES FUND Application Form-Fill
FUNDING FOR SERVICE RECIPIENTS AND FORMER SERVICE RECIPIENTS AGED 18-30 FOR POST-SECONDARY OR LIFE OPPORTUNITIES.
WHAT IS IT?
The Futures Fund is a charitable program funded by donations and operated by our Agency.
WHO DOES IT APPLY TO?
Service recipients and former service recipients of FACSFLA aged 18-30 (16, if you are graduating from high school and applying to post-secondary)
Bursaries specifically for Indigenous and, Black/Afro-Caribbean, youth will be available this year
WHAT DOES IT SUPPORT?
 Bursaries for college or university programs.
Life Opportunities include:

Career.
Health & Wellness.
Culture & Heritage.
Transitioning to Adulthood.
WHAT ARE THE RULES?
Applications must be received by June 1, 2023
Bursaries for college or university programs
Life opportunities, including career, health and wellness, culture and heritage, and transitioning to adulthood
Awards from the Futures Fund are based on need; not all who apply will receive an award
Awards are decided upon by a committee made up of Agency staff members
HOW TO APPLY?
If you are a current service recipient, please contact your worker and ask them to help you fill out an application form.
If you are a former service recipient, please visit FACSFLA's website at: facsfla.ca – How to Give -Futures Fund Application or see links below.
Once we have received your inquiry, we will verify your identity.
You will need to fill out and submit an application form sent to you by FACSFLA.
An essay explaining your situation is highly recommended as an accompaniment to your application form.
Need a paper copy of the application? Assistance filling it out? Please contact your worker or amanda.liebeck@facsfla.ca