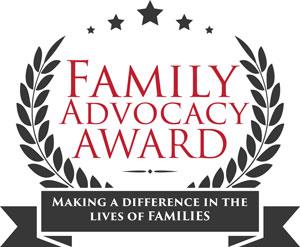 FAMILY ADVOCACY AWARD
NOMINATIONS CLOSED –
Watch for 2023 to open in October 2023 
The Family Advocacy Award is Family and Children's Services' annual award recognizing people and organizations that make a difference for families. Family and Children's Services will be calling for nominations for its Eighth Annual Family Advocacy Award in October 2023.
Nomination Criteria
Can be an individual or organization or group of individuals.
Can be any age.
Can be someone who has died, as long as there is a family member or colleague to give the award to.
Must have lived, worked or visited Frontenac, Lennox and Addington.
The winner will be recognized for any of these activities

Making the lives of families better
Helping our Agency do its work, either directly or indirectly
Advocating for families, especially those from who are disadvantaged

The activities they have done for families can or have been recent or in the recent past and can include lifetime achievements or activities at different times.
Cannot be a staff member of Family and Children's Services.
Retired staff members, foster parents, adoptive families, volunteers and board members are eligible. However, the focus of the award is for work across the community and not just at our Agency.
They (or in the case of deceased candidates their family or colleagues) must agree to accept the award.
Past Recipients
Last year's winner was Youth Counsellor Brian Howell. Mental health advocate Anne O'Riordan was the winner in 2019. Other winners in previous years include Kingston's One Roof Youth Services Hub, the Kingston Immigration Partnership, Lennox and Addington Interval House, Maribeth Scott from Northern Frontenac Community Services and the Newburgh Community Christmas Concert.
START YOUR NOMINATION HERE